Inspired Buyer's Guide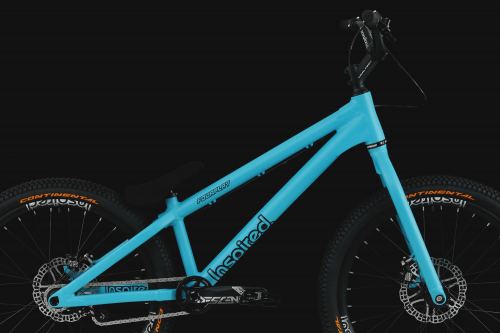 Thanks to their stellar team, Inspired Bicycles' range of street trials bikes are known the world over. For new-comers though, the range of bikes can be a confusing place to start, so here's our buyers guide for the 2021 Inspired range.
Inspired have four different models of bike in their current line-up, with different parts specifications available. These models are the Flow, the Fourplay, the Arcade and the Hex.
---
- The Flow range is Inspired's entry level bike, aimed at beginners but also capable of being ridden by intermediate and advanced riders. It uses a simpler frame and fork design (based on previous generation Fourplays) to keep costs down, without sacrificing strength or performance. The Flow is available in 20", 22" and 24" wheel sizes.
---
- The Fourplay is the frame that started it all for Inspired, over 13 years ago! Designed to be a 'do everything' bike, sitting squarely in between 'street' and 'trials', it allow riders the ability to ride a wide variety of lines on all kinds of obstacles and terrain. Constructed from aluminium to make it stiff, strong and light, the Fourplay has new features for 2021 such as through axles, a tapered head tube and integrated sprung tensioner. The Fourplay is available with 24" wheels only.
---
- The Arcade is the only bike that Inspired make with a steel frame and fork - a nod to it's BMX-influenced origins. The sleeker steel tubing might give the Arcade a slightly old school look, but the aggressive geometry means that it's capable of all the new school moves! Designed to be tough enough to handle progressive street trials moves from riders like Inspired pro team rider John Langlois, the Arcade is great for riders with a more street-influenced attitude. The Arcade is available with 24" wheels only.
---
- The Hex, designed with team rider Ali Clarkson, is Inspired's only 26" wheel bike, which makes it a bit more trials-focused than the rest of their bikes. Essentially a big brother to the Fourplay, the Hex shares many of the same features, but with geometry adapted to suit the larger 26" wheel size.
---
- The Skye was Danny MacAskill's signature bike, but was discontinued so no longer features in their range.
---
To see which models fit which height riders, Inspired have created this handy chart: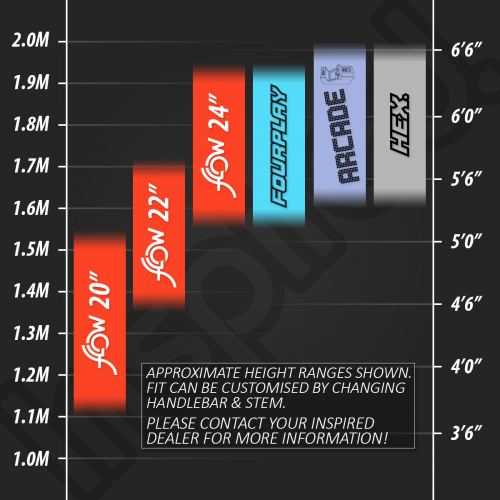 ---
Now we know what each of the models are, let's take a look at the differences between the specifications they're available in.
---
Flow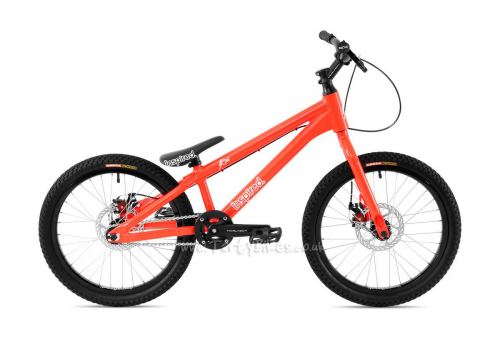 Flow 20"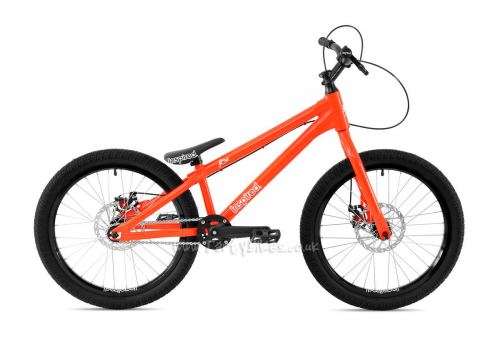 Flow 22"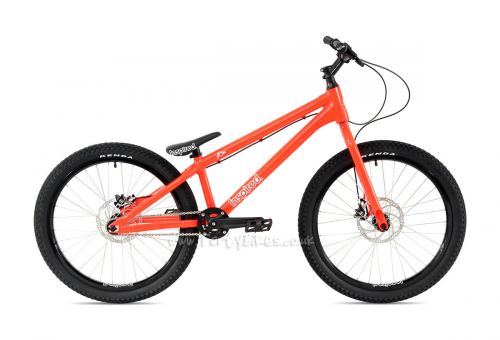 Flow 24"
The Flow bikes are built around the Flow frame, with the Flow cromoly fork (with the exception of the Flow 22", which is supplied with an alloy fork). To help keep the cost of the bike down, they are fitted with parts like an open bearing headset and square taper crankset. The wheelset features sealed disc-ready hubs front and rear, with tough double-walled rims to make sure they're nice and strong! The finishing kit is completed by plastic pedals, Kenda K-Rad tyres, mid-rise alloy riser bars and a nice and simple Inspired Integral saddle and post combo. As standard, braking is taken care of by Avid BB5 cable discs, with the option to upgrade at checkout to a choice of Magura and Hope hydraulic disc brakes. Click here for the full spec lists: 20", 22", 24".


---
Flow Plus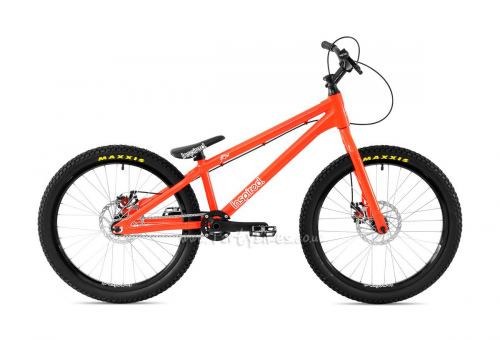 Flow Plus
The Flow Plus is only available in 24" wheel size, and has several upgrades over the standard Flow build. Although the Flow frame is shared between the two, the Flow Plus uses the lighter, stiffer Flow Alloy forks (helping shed almost 500g of weight alone). There are other upgrades throughout the spec list such as the Inspired Splined crankset, Maxxis Holy Roller tyres, Inspired riser bars and alloy pedals. Click here for the full spec list.


Upgrades from the Flow to the Flow Plus:
- Alloy fork, saving around 500g
- Inspired Splined crankset
- Maxxis Holy Roller tyres
- Inspired Flow Riser bars
- Alloy pedals
---
Arcade/Fourplay/Hex Pro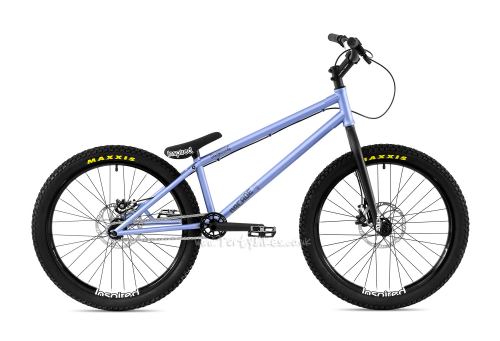 Arcade Pro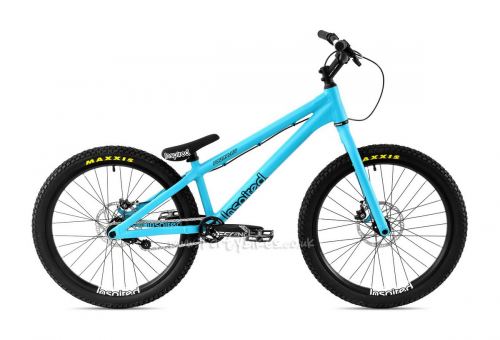 Fourplay Pro, Satin Cyan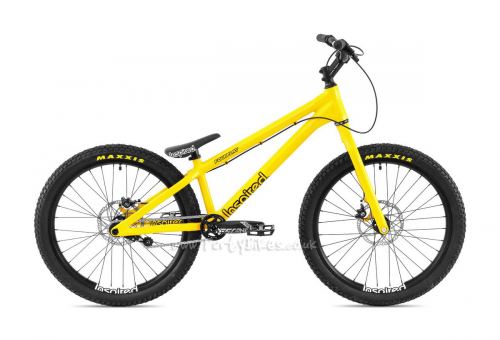 Fourplay Pro, Gloss Metallic Yellow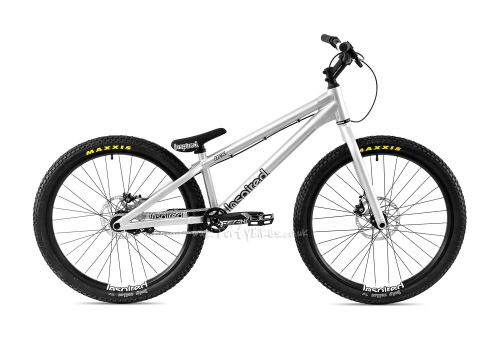 Hex Pro
Built around their respective frame kits, the Pro spec bikes from Inspired share many similarities to the Flow Plus but with a couple of changes. Hydraulic Magura MT4 disc brakes are fitted as standard (with the option to ugprade to Hope Tech 3 Trial Zone or Magura MT7 HC3 brakes), as are upgraded cranks (model and stock specific). The wheelsets are also upgraded, featuring Inspired Sealed disc hubs front and rear along with Pro V2 rims. Click the following links for the full spec lists: Arcade, Fourplay, Hex.


Upgrades from the Flow Plus to Pro spec bikes:
- Upgraded frame kits, including front through axles across all models
- Magura MT4 hydraulic disc brakes as standard
- Upgraded cranksets
- Inspired Sealed Disc hubs and Pro rims
---
Arcade/Fourplay/Hex Team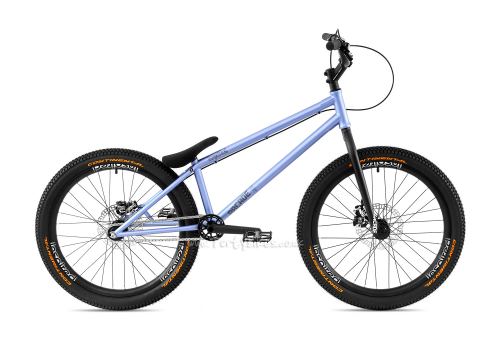 Arcade Team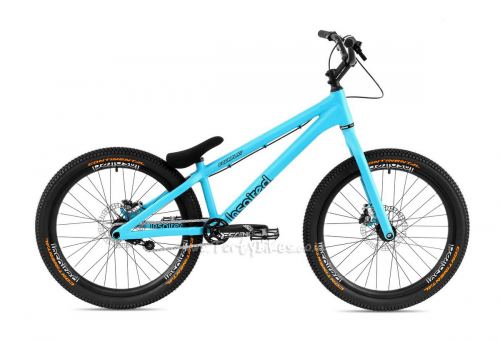 Fourplay Team, Satin Cyan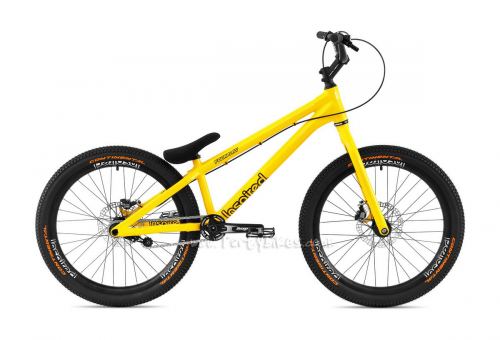 Fourplay Team, Gloss Metallic Yellow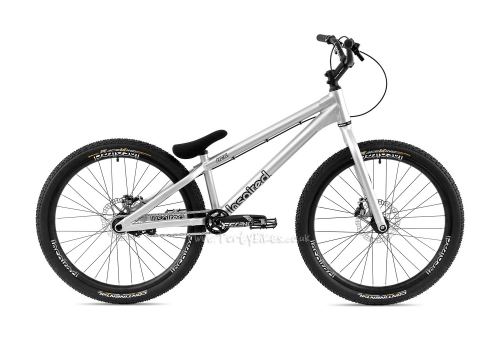 Hex Team
The Team spec bikes are as good as they get! The parts kits reflect what Inspired's team riders use on their own personal bikes, including parts such as Hope hubs, Truvativ/SRAM Descendant DUB cranks (on the Fourplay and Hex)/Inspired Arcade V2 cranksets (on the Arcade), along with Team riser bars, Inspired Tripod saddles, lock-on grips, Inspired Team V3 pedals, Continental tyres and more. These really are bikes that can be taken straight out of the box and ridden to the highest level! Click the following links for the full spec lists: Arcade, Fourplay, Hex.


Upgrades from Pro spec to Team spec bikes:
- Hope Tech 3 Trial Zone disc brakes as standard
- Upgraded Truvativ, Hope or Inspired cranksets
- Continental Danny MacAskill Air King (24") or Race King (26") tyres
- Lock-on grips
- Inspired Arcade/Team risers
- Inspired Team V3 pedals
- Hope Pro 4 hubs laced to tubeless compatible Inspired Team V2 rims
---
If you have any questions about the Inspired range (or any other bikes on our website), you can get in touch with us here, or through the 'Questions' form on the bike's individual product pages. We're happy to help!