- The latest addition to Jitsie's apparel range, the Data Gloves!
- Taking hints from the Airtime and Airtime 2 Gloves, the Data Gloves feature a thin, stitchless palm with a super stretchy backing.
- Stretchy panels between the fingers gives great freedom of movement, and helps improve the strength of the glove by reducing pressure on seams.
- Thin, stitch-less Clarino palm gives great feel and control.
- Mesh upper ensures great flexibility and freedom of movement.
- Redesigned velcro wrist enclosure helps keep the glove feeling secure.
- A mixture of printed and silicone printed logos give the gloves a great look, complimented by a silicone palm print.
- Available in a range of colours - colours as shown in product photo, clockwise from top left: Black/Red, Black/Fluro Yellow, Black/Fluro Green, Navy/Fluro Green/Violet, Red/Teal.
- Sizes range from Small to Extra Large.
Sizing Guide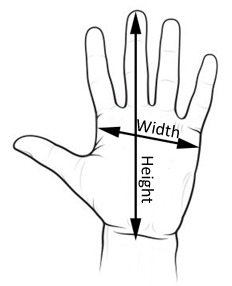 Please Note:
This is to act
only
as a guide! Everyone's hands are different, and everyone likes a different fit for their gloves. The measurements show to the approximate size of hand these gloves will best fit, not the glove itself.
Length
Width
Extra Large
19.5cm - 21cm
7.75" - 8.25"
9.5cm - 10.5cm
3.75" - 4.25"
Large
18.5cm - 20cm
7.25" - 8"
9cm - 10cm
3.5" - 4"
Medium
17cm - 19.5cm
6.75" - 7.75"
9cm - 10cm
3.5" - 4"
Small
16.5cm - 17.5cm
6.5" - 7"
8.5cm - 9.5cm
3.25" - 3.75"