Joe Maher's latest bike and video!
Joe Maher has ridden quite a few different bikes during the years he's been riding, and had settled on a 20" bike for the past few years. However, with the range of new 24" trials-orientated bikes available Joe decided to try one out.
With more options on the market, Joe opted for the new RockMan Radix frame with a selection of lightweight parts to help build up a durable but lightweight dual HS33 machine. We sent Joe a couple of questions to find out how he was adapting to his new bike, and he sent us a brand new video to show us how he was getting on with it!
TartyBikes: You've been riding a 20" bike for the last few years. What made you want to try one of the new breed of 24" trials bikes out?
Joe: Yeah, I've been riding a mod for the past 5 years, and have loved every minute of it. I always used to get back on a stock and feel it was way to big for me. But recently with more and more people getting the new 24" style bikes, I had a go on them and feel that maybe it's the time to go a little bit bigger with the wheel size! As I'm older and stronger and a fraction taller than before when I was riding a stock, I feel that I could handle the bigger size more comfortably. Also for anyone that knows me, they will know I get bored quite quickly and I felt this was a step to push my riding and progress abit further.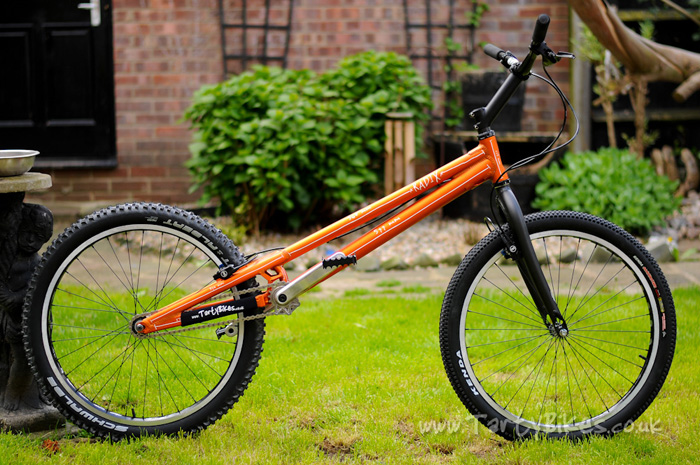 TB: Are you adapting to the new wheel size OK?
Joe: Well, I've only had 2 rides on it so far. The 1st ride I had, I got on the bike and everything seemed strange. Was almost like learning again!! But within half an hour of playing about I was getting the hang of it quite well. Come the end of the day, after about 5 hours of riding, I was already going bigger!! Things I had never even looked at on the mod I was doing on 24 and quite comfortably aswell :) My second day riding it was at a demo so by no means was I pushing my limits, but already I felt comfortable on it and it felt like I'd been been riding 24" for years.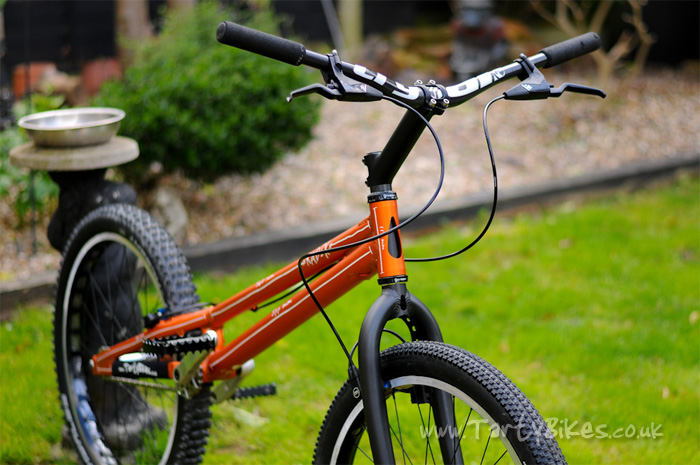 TB: Does the 24" feel better/worse than your previous 20" and 26" bikes for any moves?
Joe: Better for pretty much everything! Gaps upto front just became really easy. Gaps to rear that I was struggling with on my mod, I was doing 1st time on the 24". Also rear wheeling stuff. I was a bit hesitant about what technique I was going to use, but after some time of playing about tapping and pedalkicking up stuff, I felt the 'mod' approach just felt a lot better! I could backwheel 50" on my mod, and on the 24 I can see myself pushing this limit quite easily!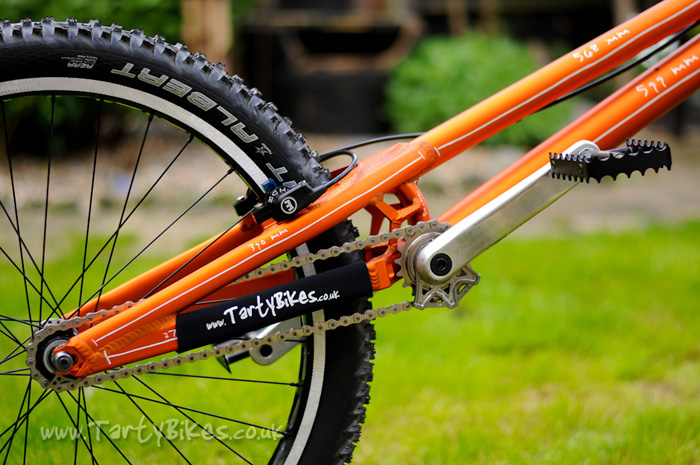 TB: As 24" bikes are now comp-legal, do you think you'll head to any comps on it this year?
Joe: To be honest, not really! I don't enjoy comps. I like the whole idea of it, riding with your mates having a good time and pushing each other but as soon as a bit of tape goes down, my riding ability seems to drop immensely. My silly brain just doesn't allow me to ride to my full potential. But saying that... Never say never! I know the EBTC are running a 1 comp championship this year so maybe I'll get to that one as it's quite local.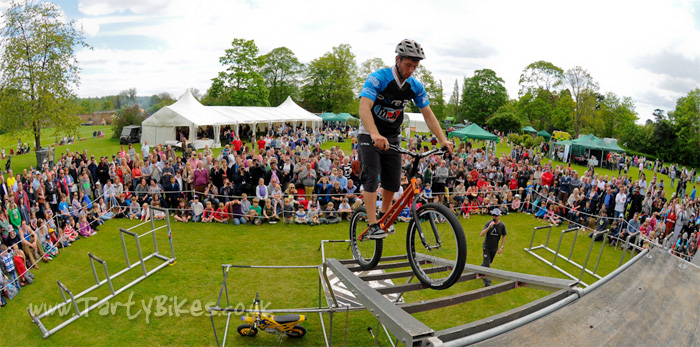 TB: You've had a few interesting spray-jobs in the past - are we going to see the rattle-cans come out for your RockMan?
Joe
: Haha, not anytime soon!! I'm really liking the orange, and am quite keen on bikes that stand out (you may have noticed)! So yeah, for the time being it's staying orange. Orange is also the colour for
Radical-Bikes
who are another one of my sponsors and they have helped me out a lot over the past few years, offering a great place to ride. If it wasn't for them my riding wouldnt have progressed as much as it has!
In summary, Im enjoying the 24 so far and quite literally am counting down the hours till the weekend when i can get back out on it.
Also thanks to you guys, Tarty Bikes for supporting me! Means a lot.
Don't forget, if you'd like to work out a custom spec for a 24" bike of your own you're welcome to use our new Bike Builder to get an idea of prices, availability and a potential weight! To give you some ideas, here's Joe's very own custom build.
Spec:
Frame and Forks
- Frame: RockMan Radix 24"
- Forks: RockMan Spade 24", 4-Bolt Only
Wheels
- Front hub: Onza Sealed Non-Disc 2012
- Rear hub: Because Sealed Rear 2012
- Front rim: Echo TR, Front 24"
- Rear rim: V!Z Single Wall 24"
- Spokes: Halo
- Rim tape: Tape!
- Inner tube (front): Kenda Unboxed
- Inner tube (rear): Kenda Unboxed
- Front tyre: Kenda Small Block 8
- Rear tyre: Schwalbe Fat Albert
Brakes
- Front brake: Magura HS11 2011
- Front brake clamps: Echo TR, Black
- Front brake pads: RockMan CNC Blue - Rear brake: Magura HS11 2011
- Rear brake clamps: Echo TR, Black
- Rear brake pads: RockMan CNC Blue
Drivetrain
- Cranks: Trialtech Sport Forged ISIS
- Freewheel: Echo SL 108, 18t
- Chain: KMC Z610 HX, 3/32"
- Rear Sprocket: Echo TR 14T Screw On
- Pedals: RockMan Single Cage
- Bottom bracket: Trialtech Sport Lite ISIS BB
- Bashring: Neon Halfring
Steering
- Headset: Neon Bow 2010
- Stem: TartyBikes Forged 20"
- Grips: Trialtech Foam
- Handlebars: Try-All Carbon Riser 2011