A

Guide to Bikes

Choosing the correct-sized bike can be a little confusing, but there are a few simple 'rules' that will help you with your choice.

The bike you should choose isn't quite as height-dependent as you may think, because you can change the handlebar and stem on the bike to adjust the feel. Riders over 6ft/1.80m can ride a 20" bike comfortably and even if you are under around 5ft6/1.68m you can make a 26" bike fit you well.

Kid's Bikes are ideal for very young riders up to around the age of 10. They use lightweight parts and smaller frames, cranks, handlebars and stems to make these bikes fit better for riders under around 1m40cm. Check the wheel size of the bike to give you an idea of how large bike bike is overall, some use 16" or 18" wheels, whereas others use 'full size' 20" wheels.

20" Bikes suit complete beginners as their small size and lighter weight means the bike is easier to move around. The parts are also a little less complex than 24" and 26" bikes so usually their price is very competitive.

24" Bikes are growing in popularity but are still mainly custom builds, meaning their price can be a little prohibitive. These bikes aim to fuse together BMX and trials influences, made popular recently by the likes of Danny MacAskill, and are great for current trials riders looking to add some new skills or for BMX or street riders looking to get into trials.

26" Bikes are more similar to 'normal' MTBs and motorbike trials bikes in terms of handling and geometry than the other bike sizes, and we generally recommend riders who have experience in these sports look at 26" wheeled bikes. Most bikes now have no seat and are single speed - this makes the bike lighter, less easy to damage, cheaper for you to purchase and means they have better body clearance.


As you move up the range our bikes generally become lighter, more responsive/easier to ride and more durable, so providing your budget isn't stretched too far it's worth spending as much as you can on the bike initially, it will mean you have the best 'base' possible for future upgrades. Please click below for a full video guide!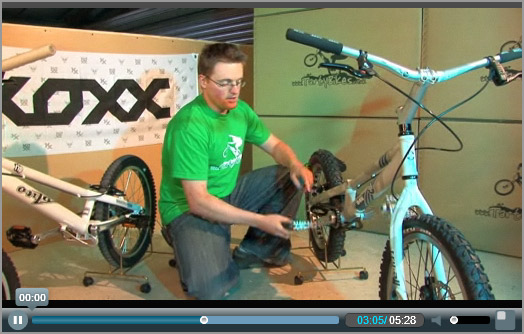 When you purchase a bike from us, it is always 100% built in our workshop and then re-packaged with a few parts removed to ensure it doesn't get damaged in transit. It arrives to you 95% built and there is some minor assembly required - click below for our video guide.