- New, just in time for winter, the TartyBikes Casual Zip-Up Hoodie!
- Slightly thinner than our previous hoodie (225gsm compared to 280gsm) which makes it ideal for layering up in winter or wearing over a T-shirt in summer.
- Zip-up front allows you to wear the hoodie however you'd like depending on the temperature.
- The hoodie features 2 pockets on the front, with one including a reinforced hole inside the lining to allow you to route your headphone cable through.
- Well cut body is long enough to provide good coverage whilst in a typical riding stance, as well as just for casual use.
- Elasticated hem means the body is held in place well.
- Twin stitching ensures good durability.
- The sleeves use comfortable elasticated cuffs, and a generous arm length (up to 10cm longer - depending on the size worn - than our V2 hoodie) means they come down long enough to cover the enclosure on riding gloves too.
- Embroidered TartyBikes V3 logo is colour matched to the hood draw strings and zip.
- Available in a range of sizes, in one 'Navy Heather' colour.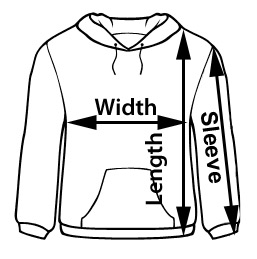 | | | | |
| --- | --- | --- | --- |
| | Length | Width | Sleeve |
| Extra Large | 76cm | 59cm | 71.5cm |
| Large | 73cm | 55cm | 70cm |
| Medium | 70cm | 51cm | 68.5cm |
| Small | 67cm | 47cm | 67cm |
| XSmall (9-11) | 58cm | 44cm | 47cm |
| XXSmall (7-8) | 50cm | 43cm | 43cm |
| XXXSmall (5-6) | 45cm | 39cm | 39cm |