Tarty Bikes Time Attack! - Results and Event Report!
A long slog up a big hill
We arrived nice and early (thankfully as the walk up to the event site was a killer!) to set up and were greeted by a friendly Dave Haygarth who was organising the main MWM event with his army of volunteers. Dave and the rest of the Midweek Mountain Bike Madness crew deserve a big heap of kudos for being so accommodating in allowing us to set up a sideshow to their main event. As some of you may know just getting a decent attendance is a task in itself so to be able to put our event effectively in front of our target audience was a big help so thank you, Dave! Go check out their XC Moutain Bike race series here:
I was quite keen to keep a 'speed' element to the course, so we laid out sections that would look right at home on any XC MTB course in-between the gates marking the technical obstacles. My hope was this would give riders time to set themselves up for upcoming obstacles and look ahead to plan their route. The gates themselves were marked with a sign signifying the start and orange cones signifying the end with riders required to complete them all cleanly for a podium place!
Lets Race!
This event was a learning exercise and we quickly learned our first interesting lesson, the first handful of riders that recce'd the course got lost! Despite the course being short we found that some riders were getting confused about where to go in between gates. My theory is that, as trials riders, we instinctively look for impassible objects, picking lines through them. Mountain bikers however look for the trail and path of least resistance. It's very out of the ordinary for a trail to have a whacking great big rock in the middle of it! Normally for MTB races you don't need to tape everything as the trail naturally leads riders on the correct route a lot of the time. Here we found we needed to tape everything very clearly to ensure everyone stayed on track.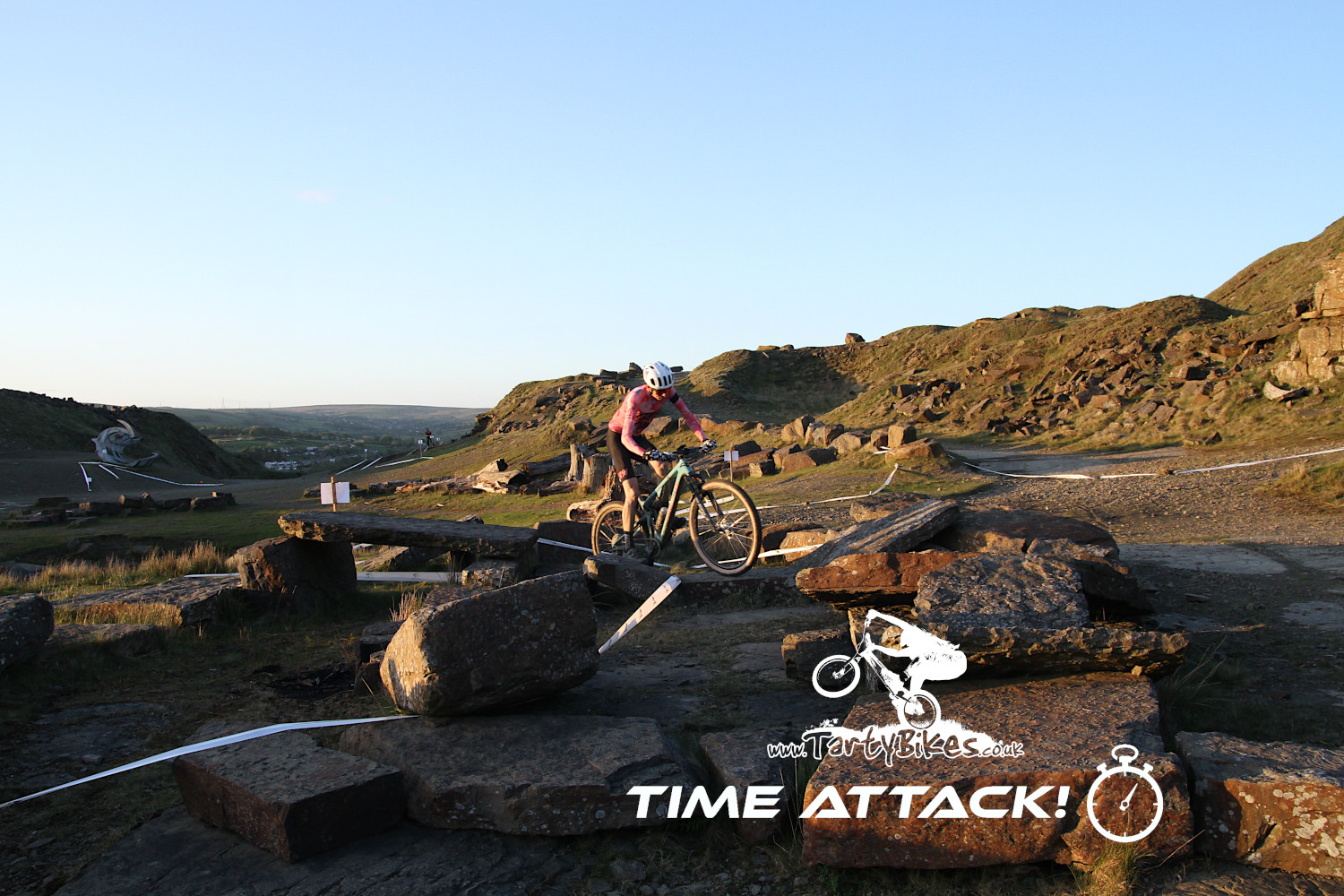 Rider - Sam Marshall
Once riders knew where they were going, the game was on! We had a good mix of riders take part, from Youth to Veteran. Some of the first to tackle the course were the hardcore XC racers who turned up early to recce the main event, we're talking serious XC race bikes and full Lycra. Don't let that fool you though, Lee Morgan, Dave Haygarth, Kevin Smith and a young Madeline Smith all smashed through the course in under a minute with no gates missed or feet down.
Hustling a 29" XC hard tail through a course like this is not as easy as you might think, and not having the option to bunny hop at speed or wheelie up onto rocks is a tricky proposition on these bikes. As a result, we had quite a few riders put a foot down rather than stack it before the main event, except for David Kidd who had a traction malfunction on the sprint to the finish and went down hard (hopefully you're OK Dave!)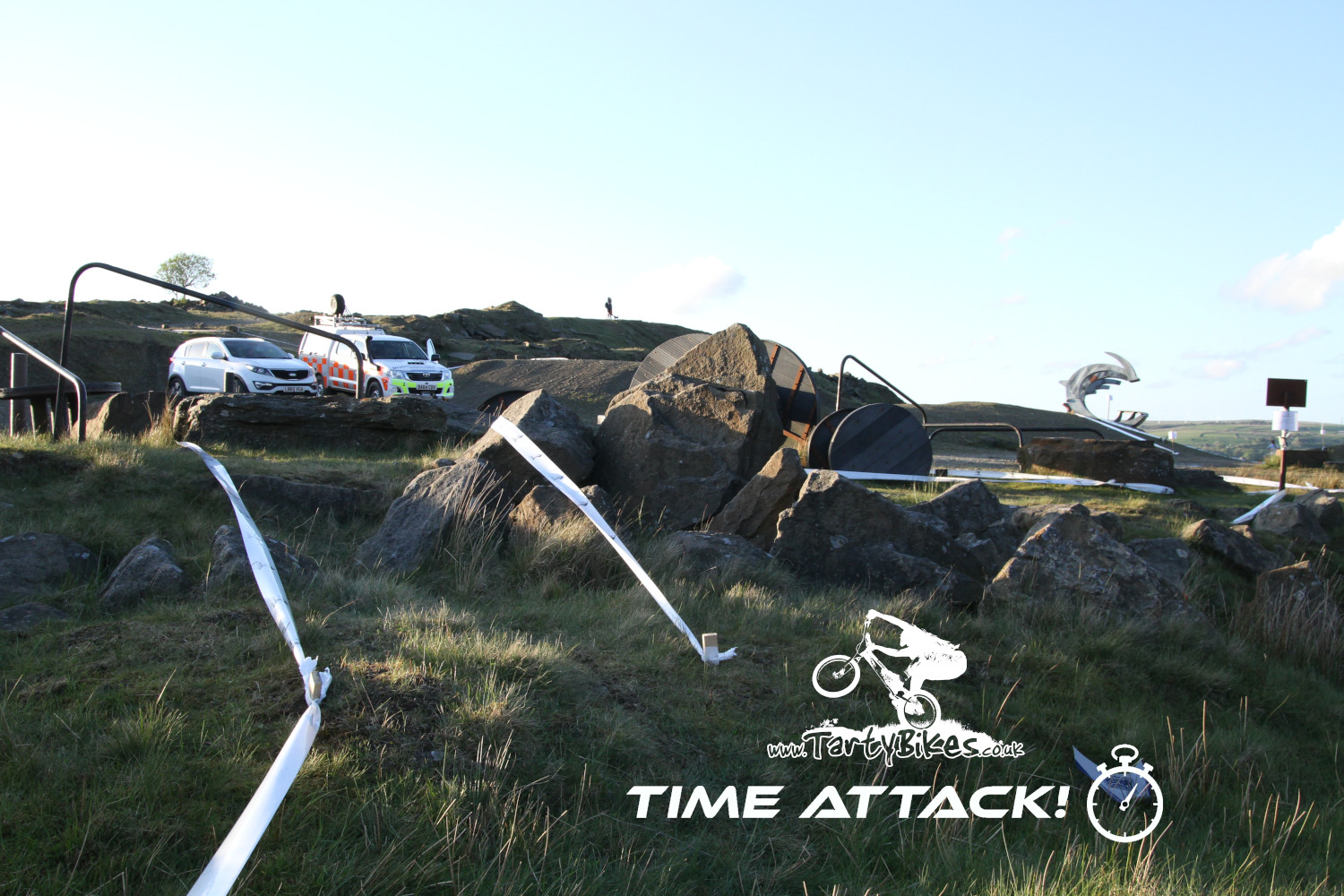 We only had 4 riders miss gates and I strongly suspect that was down to our course markings but I felt it important not to pressure riders into riding something they didn't want to.
The fastest times of the day were set by Danny Keane who took the win with a blistering time of 0:45:12, on a full suspension Enduro bike, in full body armour and a full face helmet! Danny is a seasoned trials rider however, and it showed in his line choice, actually choosing to go the harder route into the second gate!
Kevin Smith was an admirable second place with 0:47:75 with Tarty Bikes own Adam Read coming in third with 0:52:41. Well done Kevin for beating an actual trials legend!
It was really great to see those who took part getting stuck in, even having multiple attempts, despite a grueling XC race starting at 7pm. It was gratifying to see that once riders had figured out the rhythm of the course, they soon began to adapt their riding to suit. We even started to see some riders hunting for the comp lines, cutting close to the gate markers to keep effort to a minium.
What struck me was that there was a clear change in riding style once riders adjusted to the course compared to their usual flat out pace. Encouraging riders to think a little about the lines they could take and setting up for an obstacle in the correct way started to show immediate improvement in how they tackled the obstacles. It just goes to show how beneficial to your MTB riding a bit of technical trials can be, the skills will quickly transfer to the trail, helping you to pick out faster lines through technical sections.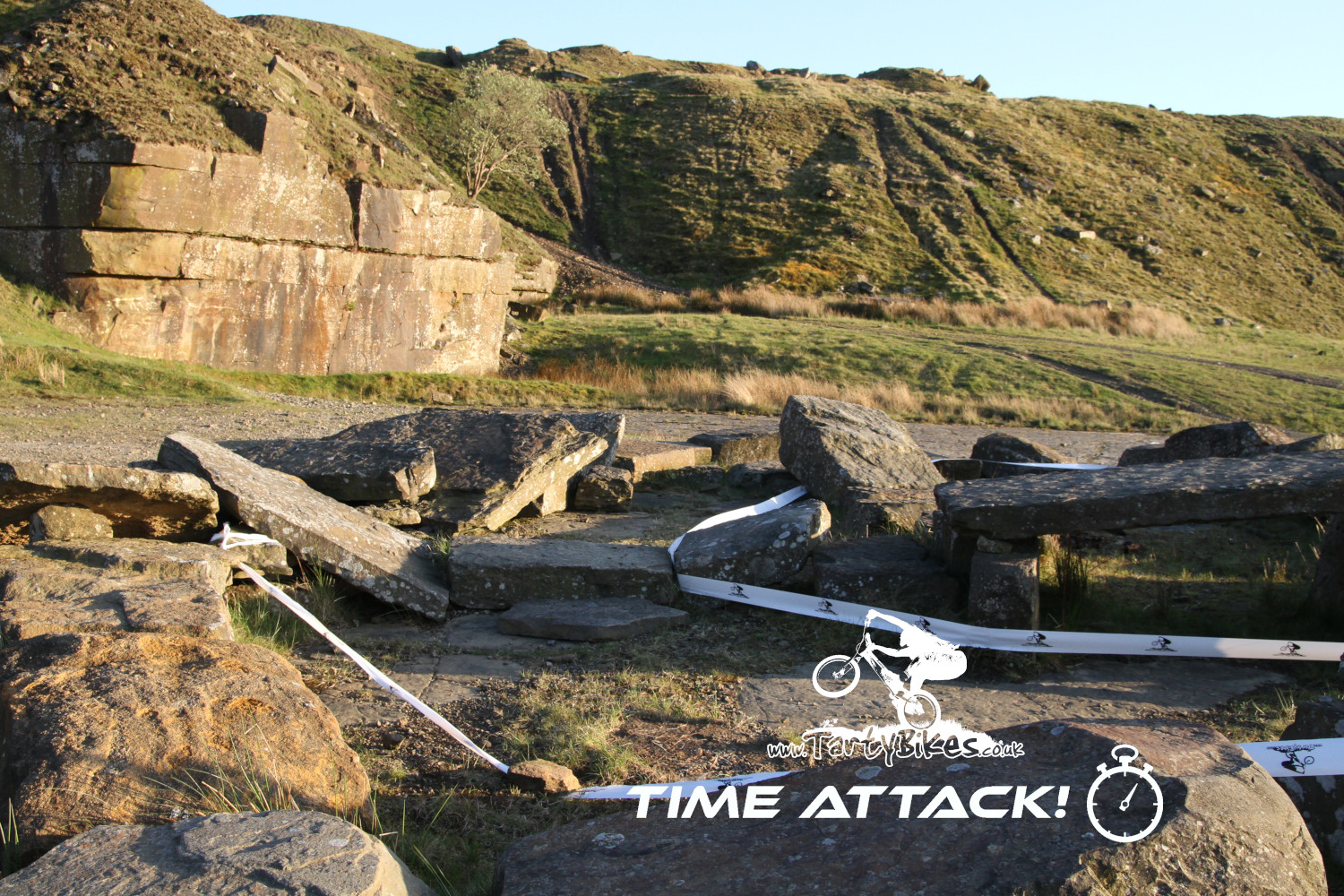 Lessons Learned
The feedback we received was positive with MWM happy to have us back at a later event and we took some valuable lessons from the exercise. If you're thinking of trying something similar:
1 – Mark the course VERY clearly!
2 – Keep it short and sweet – our course was a little long, something shorter would tempt more to try it.
3 – Keep the obstacles easy, the clock is the competitive element here. Everyone being able to ride the same course is a massive logistical time saver.
4 – Keep it near the start! It sounds obvious, but the event being visible is a big help in rider participation. We were a bit restricted by location, but next time I would go as far as bringing obstacles with us to set a course where we choose.
There are plenty more technical details I could go into, so if you're interested in trying your own similar event just get in touch via tartybikes@gmail.com and we can hopefully offer you some useful advice!
Results
Rather than split the times up based on missed gates or dabs we decided to drop everyone into a descending time order with a note marking if they dabbed or missed a gate. If you managed the course clean, then well done!
F - Foot Down / B - Gate Missed
Top 3 times
Danny Keane - 0:45:12
Kevin Smith - 0:47:75
Adam Read - 0:52:41
-------------------
John Laverick - B - 0:53:43
Lee Morgan - 0:56:38
Dave Haygarth - 0:56:78
Madeline Smith - 0:59:03 - Junior
Sam Marshall - F - 1:01:10
James Clayton - 1:01:68
Povilas Dascioras - B/F - 1:07:31
Shia Videan - F - 1:09:09
Freddy Smith - B/F - 1:12:37 - Junior
Daniel Siddique - F - 1:15:78
Paul Julien - F - 1:16:22
Jack Beckett - B/F - 1:27:22
David Kidd - DNF