- New from Danny MacAskill's Drop and Roll Tour, a stylish pocket long sleeve T-shirt.
- As worn by Danny MacAskill, Duncan Shaw, Fabio Wibmer and Ali C at the Drop and Roll shows.
- Produced in the UK and made from 90% cotton with 10% elastane, with great quality throughout the garment!
- High quality Drop And Roll logo is printed onto the front pocket, which is black to match the sleeves.
- Comfort strip is added to cover the stitching around the rear of the neck, ensuring it doesn't rub whilst you ride.
- Detail Drop And Roll label is stitched along the side seam of the body.
- Full length sleeves have high elastane content to make them as comfortable and non-restrictive as possible while you're riding.
- Available in 11 different sizes from Kids XXS right up to Adult XL.
Sizing info is shown below; the dimensions refer to the garment itself, rather than the size of the wearer!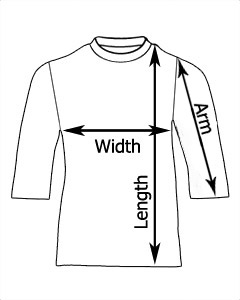 Adult Sizes
| | | | |
| --- | --- | --- | --- |
| | Width | Length | Arm |
| XS | 44.5cm | 69cm | 50cm |
| Small | 48cm | 70cm | 50cm |
| Medium | 48cm | 71cm | 53cm |
| Large | 51cm | 74cm | 53cm |
| XL | 53cm | 76cm | 55cm |
Kids Sizes
| | | | |
| --- | --- | --- | --- |
| | Width | Length | Arm |
| XXS | 39.5cm | 51cm | 38cm |
| XS | 41cm | 53.5cm | 41cm |
| Small | 43cm | 55cm | 43cm |
| Medium | 43cm | 59cm | 46cm |
| Large | 46cm | 62cm | 51.5cm |
| XL | 49cm | 66cm | 52cm |