June 2012
Click here to subscribe to the TartyBikes news feed.
Posted on 20/06/2012
As many people will be aware, recently a lot of second-hand (also sold as "Ex-demo") or 'grey import' Echo/ZOO! products have made their way onto the market either through resellers in the UK or through Chinese auction/retail websites. Echo themselves are also aware of this, so have made the following statement on their website:

"Dear Customers:

A word of warning about purchasing our bicycles through Taobao /Alibaba International; We have found that many customers have bought their bicycles through the Chinese auction site Taobao/Alibaba International. While we don't discourage free-enterprise we do feel it is important to discourage customers from purchasing their bicycles through Taobao/Alibaba International. First, you cannot be certain that the bicycle you are buying is actually a new bicycle. In fact we have found that often these bikes are second hand, refurbished units. Second, if you buy a bicycle through Taobao/Alibaba International it is not under warranty. If you find the bicycle has some damage or problem there is nothing that our dealer network can do to help you. In short it is always best to buy your bike from an authorised dealer. To find the dealer nearest you simply follow the link on our site.
If you have any questions or concerns feel free to contact us.

Sincerely,
Echo Bikes"

As they also mention in that statement, they have authorised dealers worldwide. Some people/retailers in the UK may claim to be official Echo/ZOO! dealers, or to be selling official Echo/ZOO! products, but there is only one official Echo importer in the UK selling official Echo/ZOO! products bought directly (and brand new) from Echo: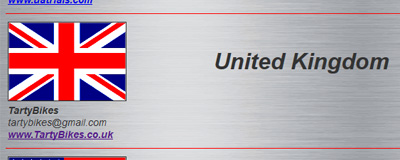 Updated: 04/07/12.
If you're unsure about whether you're buying official Echo/ZOO! parts from another retailer in the UK, we only sell Echo/ZOO! parts to 'Bricks and mortar' bike shops. We haven't sold any of the main line of Echo/ZOO! parts (e.g. complete bikes, frames, freewheels, forks, handlebars, stems, hubs, rims, etc.) to any online retailers in the UK or abroad. Equally, we haven't sold these parts to any other retailers who would be in a position to pass them on to any online retailers, such as those who operate under more than one trading name.