Contact Us
Knowledge of trials bikes and components is something we pride ourselves on. Due to the huge amount of trials experience we have (over 45 years between us!), if you are stuck choosing a component, or are unsure if it will fit, then it's more than likely that we can help.
Getting in touch
The best way for us to assist you is by phone using either of the numbers above, such a vast amount of information is very difficult to communicate via e-mail. From overseas, you may need to call 0044 1772 32 33 33, and you can use the small 'light' in the top right of the page to check if our phone lines are open.

If you do wish to email us, then please send us a message using the contact form below and we will get back to you as soon as possible.

Adam, Mark and Stan all deal with emails, and all three can also be regularly found (heard?) attending to the phones. If you wish to put faces to names then you can see our ugly mugs in the About Us section!
Want to visit us?
TartyBikes is located in Bamber Bridge, a small town just south of Preston in Lancashire. We're around half a mile from Junction 29 of the M6 and pretty easy to find (although we have no signage on the building). Since we are a mail order warehouse we do not have any products on display, but we are able to accept visitors between 12 noon and 2pm with prior arrangement. Please be aware that for health and safety reasons we are not able to admit visitors without an appointment, and no visitors are allowed into the warehouse. So, if you want to come down and say hello, then please give us a call and we can arrange this for you.
Enjoy browsing the site, and remember that we're here to help and only a phone call away!
Contact Information
If you need an answer quickly or would prefer to speak to someone in person, feel free to give us a call. We are open from 9am-5pm, Monday-Friday.
Tel. (UK): 01772 32 33 33
Tel. (Intl.): 0044 1772 32 33 33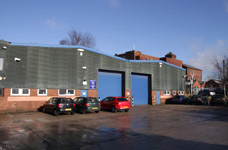 TartyBikes Ltd,
Units 3-4,
Club Street,
Bamber Bridge,
Preston,
PR5 6FN
Company No: 6131482
VAT Registration No: GB 860 0270 59